"DAR wuz one season" said Uncle Remus, pulling thoughtfully at his whiskers, "w'en Brer Fox say to hisse'f dat he speck he better whirl in en plant a goober-patch, en in dem days, mon, hit wuz tech en go. De wud wern't mo'n out'n his mouf 'fo' de groun' 'uz brok'd up en de goobers 'uz planted. Ole Brer Rabbit, he sot off en watch de motions, he did, en he sorter shet one eye en sing to his chilluns:
"'Ti-yi! Tungalee!
I eat um pea, I pick um pea.
Hit grow in de groun', hit grow so free;
Ti-yi! dem goober pea.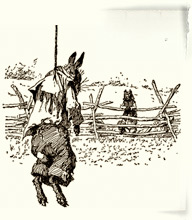 "Sho' 'nuff w'en de goobers 'gun ter ripen up, eve'y time Brer Fox go down ter his patch, he fine whar somebody bin grabblin' 'mongst de vines, en he git mighty mad. He sorter speck who de somebody is, but ole Brer Rabbit he cover his tracks so cute dat Brer Fox dunner how ter ketch 'im. Bimeby, one day Brer Fox take a walk all roun' de groun'-pea patch, en 'twan't long 'fo' he fine a crack in de fence whar de rail done bin rub right smoove, en right dar he sot 'im a trap. He tuck'n ben' down a hick'ry saplin', growin' in de fence-cornder, en tie one een' un a plowline on de top, en in de udder een' he fix a loop-knot, en dat he fasten wid a trigger right in de crack. Nex' mawnin' w'en ole Brer Rabbit come slip-pin' 'long en crope thoo de crack, de loop-knot kotch 'im behime de folegs, en de saplin' flew'd up, en dar he wuz 'twix' de heavens en de yeth. Dar he swulig, en he fear'd he gwineter fall, en he fear'd he wer'n't gwineter fall. W'ile he wuz a fixin' up a tale fer Brer Fox, he hear a lumberin' down de road, en present'y yer cum ole Brer B'ar amiblin' 'long film whar he bin takin' a bee-tree. Brer Rabbit, he hail 'im:
"'Howdy, Brer B'ar!'
"Brer Ba'r, he look 'roun en bimeby he see Brer Rabbit swingin' fum de saplin', en he holler out:
"'Heyo, Brer Rabbit! How you come on dis mawnin'?'
"'Much oblije, I'm middlin', Brer B'ar,' sez Brer Rabbit, sezee.
"Den Brer B'ar, he ax Brer Rabbit w'at he doin' up dar in de elements, en Brer Rabbit, he up'n say he makin' dollar minnit. Brer B'ar, he say how. Brer Rabbit say he keepin' crows out'n Brer Fox's groun' pea patch, en den he ax Brer B'ar ef he don't wanter make dollar minnit, kaze he got big fambly er chilluns fer to take keer un, en den he make sech nice skeercrow. Brer B'ar 'low dat he take de job, en den Brer Rabbit show 'im how ter ben' down de saplin', en 'twan't long 'fo' Brer B'ar wuz swingin' up dar in Brer Rabbit place. Den Brer Rabbit, he put out fer Brer Fox house, en w'en he got dar he sing out:
"'Brer Fox! Oh, Brer Fox! Come out yer, Brer Fox, en I'll show you de man w'at bin stealin' yo' goobers.'
"Brer Fox, he grab up his walkin'-stick, en bofe un urn went runnin' back down ter der goober-patch, en w'en dey got dar, sho 'nuff, dar wuz ole Brer B'ar.
"'Oh, yes! youer kotch, is you?' sez Brer Fox, en 'fo' Brer B'ar could 'splain, Brer Rabbit he jump up en down, en holler out:
"'Hit 'im in de mouf, Brer Fox; hit 'im in de mouf'; en Brer Fox, he draw back wid de walkin'cane, en blip he tuck 'im, en eve'y time Brer B'ar'd try ter 'splain, Brer Fox'd shower down on him.
"W'iles all dis 'uz gwine on, Brer Rabbit, he slip off en git in a mud-hole en des lef' his eyes stickin' out, kaze he know'd dat Brer B'ar'd be a comin' atter 'im. Sho 'nuff, bimeby here come Brer B'ar down de road, en w'en he git ter de mud-hole, he Say:
'"Howdy, Brer Frog; is you seed Brer Rabbit go by yer?'
'"He des gone by,' sez Brer Rabbit, en ole man B'ar tuck off down de road like a skeer'd mule, en Brer Rabbit, he come out en dry hisse'f in de sun, en go home ter his fambly same ez enny udder man.
"The Bear didn't catch the Rabbit, then?" inquired the little boy, sleepily.
"Jump up fi'm dar, honey!" exclaimed Uncle Remus, by way of reply. "I ain't got no time fer ter be settin' yer proppin' yo' eyeleds open."